Laser Hair Removal For Transgender Clients
Reveal your true self by permanently removing unwanted body hair with laser hair removal.† With a nearly pain-free process and permanent results, you'll have smooth, hairless skin in a matter of months.
Avoid embarrassing hair growth — treatments require the area to be cleanly shaven.
Nearly a pain free process. Our lasers are much less painful than electrolysis or waxing.
All treatments are performed by highly-trained medical professionals under the supervision of a medical doctor.
For clients preparing for phalloplasty or vaginoplasty, we can help you prepare by treating custom body areas based on the recommendations of your surgeon.
Never worry about shaving or waxing again.
On average, Milan Laser clients are 95% hair-free in 7-10 treatments.
Why Include Laser Hair Removal
in Your Transition
Removing unwanted hair is an important part of realizing your true gender identity. In the past, that meant an endless cycle of waxing & shaving and issues like embarrassing stubble, razor burn, bumps, and ingrown hairs. With laser hair removal, you can avoid these painful side effects.
Never worry about shaving, waxing or tweezing again.
Instead of irritating your skin to temporarily remove hair, laser hair removal will permanently remove the hair without damaging your skin. This is because our laser eliminates the root of the hair by targeting the melanin in the follicle so that it can never grow back. See a demo.
Additionally, you DO NOT have to let the hair grow out in order for laser hair removal to be successful. In fact, it's a requirement that areas being treated are closely shaven.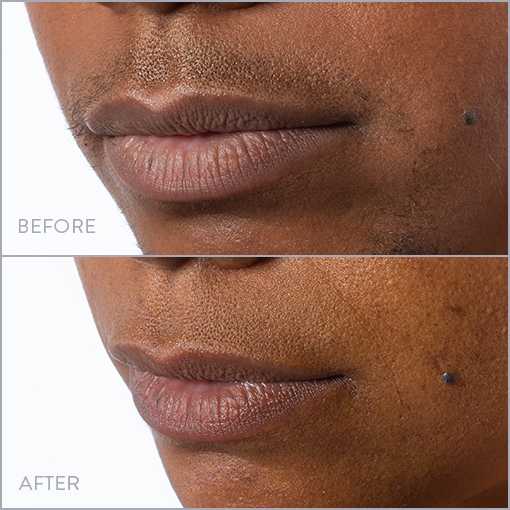 Why Laser Hair Removal is
Ideal for Transitioning
Laser hair removal is the best solution to unwanted hair during your transition.
Go With Confidence. Save time and stop worrying about shaving or tweezing before leaving the house. You're always ready to go!
Comfortable Treatments. Unlike painful electrolysis, you'll comfortably remove unwanted hair without having to let it grow out first.

Laser treatments, on average, take less than 30 minutes while electrolysis typically takes several hours to complete.

Never Shave Again. With Milan's exclusive Unlimited Package™, your results are guaranteed for life. As in, forever and beyond, at no additional cost.

We believe in our lasers, and we're willing to prove it by offering unlimited sessions with every package.

A stray hair shows up 2, 5 or even 10 years down the road…come back and we'll take care of it. No questions asked. No touch-up fees.
Laser hair removal, because you've waited long enough to show the world the real you! Smooth, permanently hairless skin is in your future.
Have unanswered questions about laser hair removal for transitioning? Our friendly, knowledgable staff are happy to answer any questions you may have.
Schedule your free consultation to learn more about laser hair removal today!