Laser Hair Removal For Folliculitis
Laser hair removal prevents the embarrassing red bumps and pimples caused by folliculitis.
Permanently remove unwanted hair without skin irritation.
Eliminate the need for medications or special creams.
Prevent future folliculitis outbreaks and get permanent results with laser hair removal.
On average, Milan Laser clients are 95% hair-free in 7-10 treatments.
Why Laser Hair Removal is Ideal for Folliculitis
Folliculitis—more commonly known as Barber's itch, razor bumps, hot tub rash, or shaving rash—occurs when the root of your unwanted hair becomes infected. While anyone can develop folliculitis, there are certain risk factors that increase your risk for developing the embarrassing and often painful red bumps, boils & blisters.
You've Tried Everything Else. There's nothing you haven't tried to prevent those  angry red bumps from showing up—yet no matter what you do they keep coming back. You've avoided shaving and waxing, but then you're just hairy and those ingrown hairs still show up. All of the expensive antibacterial soaps and special creams you've bought haven't kept your folliculitis at bay either. Heck, you've even stopped wearing even remotely tight clothing in the hopes that would do the trick—all to no avail. That's because these methods don't remove the underlying cause of the problem; the hair follicle itself.
Comfortable Treatments. Unlike painful acne extractions at dermatologist electrolysis, you'll comfortably and quickly remove unwanted hair without irritation your skin. Laser treatments, on average, take less than 30 minutes, while electrolysis typically takes several hours to complete. Another great thing is that there is no downtime after a laser treatment whereas an extraction—can take 5-7 days to heal after you visit your dermatologist.
Go With Confidence. The underlying cause of folliculitis is gone and so is your unwanted hair, so there's no need to worry about red bumps, or pimples ruining your smooth skin.
Schedule your free consultation to learn more about laser hair removal today!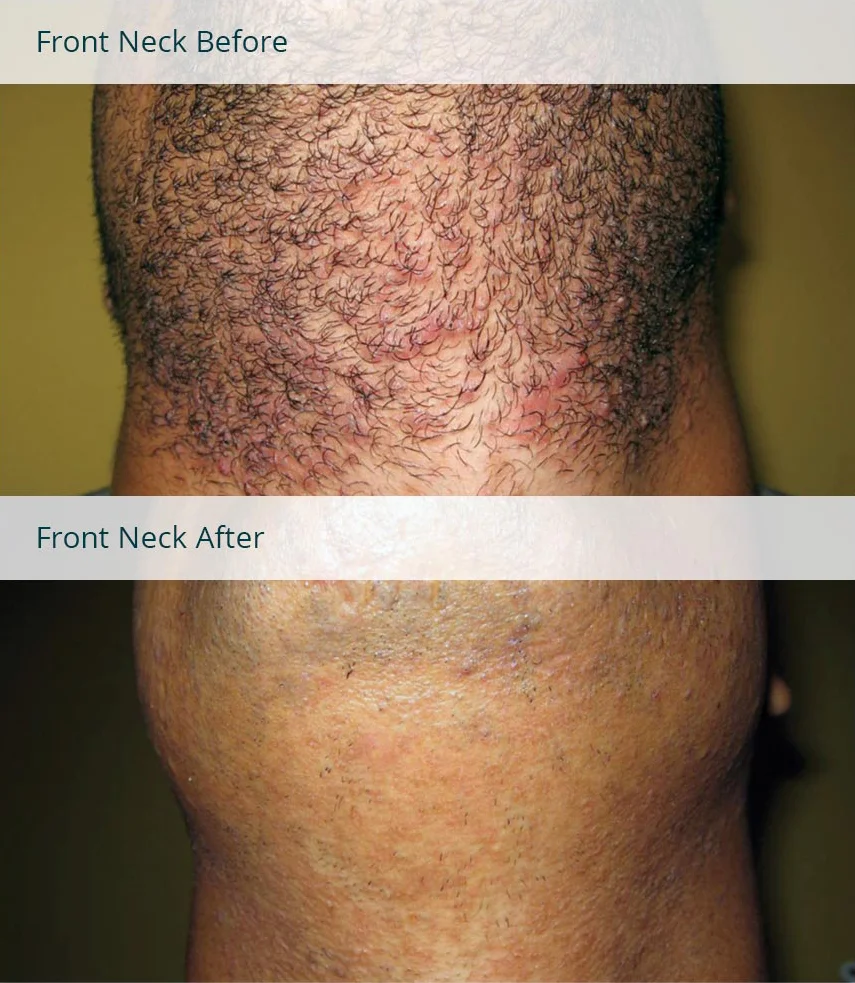 Folliculitis Treatment for All Skin Tones
There's a misconception that laser hair removal is only safe for lighter skin tones. While that might have been true when the FDA first approved laser hair removal in the 90s, a lot has changed since then. Unlike IPL (intense pulsed light) devices, our lasers can safely and effectively treat all skin tones.
That's because it uses two laser technologies—one that's geared toward fair skin and one that's geared toward darker skin—which allows our highly-trained medical professionals to create customized treatment plans to fit the exact needs of each client's skin tone and hair type. Creating a custom treatment plan for each individual helps ensure that every treatment eliminates as many hair follicles as possible… so each treatment will lower your risk of a folliculitis outbreak. See a demo.
While most folliculitis treatments are safe for all skin tones they also usually only treat the symptoms rather than the cause of the condition. Laser hair removal treatment option that will truly prevent future outbreaks.
Learn more about why laser hair removal is the best solution for preventing folliculitis.
Have unanswered questions about how laser hair removal relates to managing your folliculitis? Our  knowledgeable staff are happy to answer any questions you may have. Find out if laser hair removal is right for you at your free consultation.
Benefits of the Unlimited Package
for Folliculitis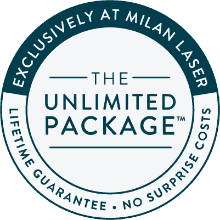 One of the most common triggers for folliculitis is shaving. Our exclusive Unlimited Package™ (included, at no additional cost, with every area!) is your never shave again guarantee because it gives you unlimited treatments for life. So if a stray or new hair shows up 6 months, or even 10 years down the road… we'll take care of it permanently for you. No questions asked. No touch-up fees, EVER.
How Laser Hair Removal Works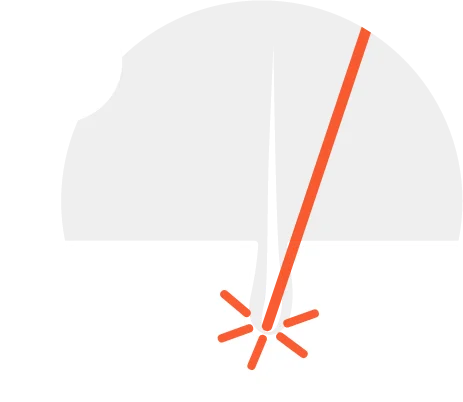 Why Milan Laser Hair Removal Is Ideal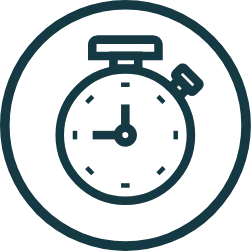 Be Ready. Always.
Last minute appointments and the waxing-waddle will be a distant memory. You'll always be prepared with smooth skin after laser hair removal.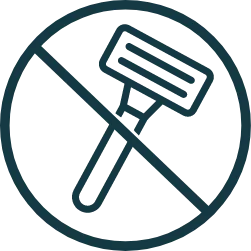 Permanent Results.
No more shaving or painful waxing. Ever. Smooth skin is here to stay.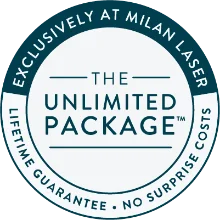 Unlimited Package.
Have a rogue hair that didn't get the memo about being hair free? You're covered with Milan! We'll take care of it, no questions asked, and no additional cost.
Gentle Hair Removal.
Because the laser targets the hair follicle, your skin doesn't suffer through the abrasive action that razors, depilators, or hot waxes can cause so you don't risk breaking the protective surface of the skin.